The United States presidential election of 1924 was won by incumbent President Calvin Coolidge, the Republican candidate. Coolidge was given credit for a booming economy at home and no visible crises abroad. He was aided by a split within the Democratic Party. The regular Democratic candidate was John W. Davis, a little-known former congressman and diplomat from West Virginia. Since Davis was a conservative, many liberal Democrats bolted the party and backed the third-party campaign of Wisconsin Senator Robert M. LaFollette, Sr., who ran as the candidate of the Progressive Party. This was the first presidential election in which all American Indians were citizens and thus allowed to vote. Coolidge's 25.2-point victory margin in the popular vote is the one of the largest ever.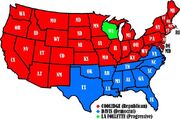 Ad blocker interference detected!
Wikia is a free-to-use site that makes money from advertising. We have a modified experience for viewers using ad blockers

Wikia is not accessible if you've made further modifications. Remove the custom ad blocker rule(s) and the page will load as expected.