As the 1970s came to a close, Former Governor Ronald Reagan was the odds-on favorite to win his party's nomination for president (after nearly beating incumbent President Gerald Ford just four years earlier). He was so far ahead in the polls that campaign director John Sears decided on an "above the fray" strategy. He did not attend many of the multicandidate forums and straw poll events held in the summer and fall of 1979. However, George H. W. Bush, the former director of the Central Intelligence Agency and chairman of the Republican National Committee, taking a page from the George McGovern/Jimmy Carter playbook, did go to all the so-called "cattle calls", and began to come in first at a number of these events. Along with the top two, a number of other Republican politicians entered the race.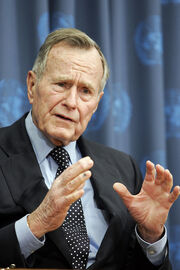 Ad blocker interference detected!
Wikia is a free-to-use site that makes money from advertising. We have a modified experience for viewers using ad blockers

Wikia is not accessible if you've made further modifications. Remove the custom ad blocker rule(s) and the page will load as expected.