Marvin Pierce Bush (born October 22, 1956) is the youngest son of George H. W. Bush and Barbara Pierce, and brother of George W., John (Jeb), Neil and Dorothy. He is named for his maternal grandfather. He and wife Margaret (née Molster) have two adopted children from the Gladney Center in Ft. Worth, Texas: a daughter, Marshall, and a son, Walker.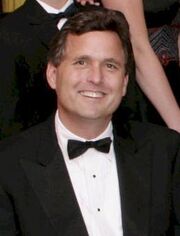 Biography
Edit
Marvin Bush graduated from Woodberry Forest School in 1975, and also holds a B.S. from the University of Virginia, where he was a member of St. Elmo Hall. He spent most summers and holidays at the Bush family estate. Capital Management, located in McLean, Virginia. He has portfolio manager duties at Winston. Marvin Bush is a former director of HCC Insurance Holdings, and is currently listed as an advisor to the board of directors. HCC, formerly Houston Casualty Company, is a publicly traded insurance company on the New York Stock Exchange.
Ad blocker interference detected!
Wikia is a free-to-use site that makes money from advertising. We have a modified experience for viewers using ad blockers

Wikia is not accessible if you've made further modifications. Remove the custom ad blocker rule(s) and the page will load as expected.