Lyndon Baines Johnson was the 36th president of the United States.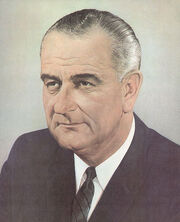 Born on August 27, 1908, in Stonewall, Texas, he married Claudia Alta "Lady Bird" Taylor in 1934. Their older daughter, Lynda Bird Johnson, was born in 1944; the younger daughter, Luci Baines Johnson, followed three years later. Johnson served in the U.S. House of Representatives from 1937-1949, in the U.S. Senate from 1949-1961, and as Vice President from 1961-1963. He succeeded to the Presidency upon the assassination of John Fitzgerald Kennedy. Elected to a full term as President in 1964, he served until 1969. On January 22, 1973, he died of a heart attack.
His daughter Lynda Byrd Johnson Robb is the oldest living Presidential child as of 2014.