Lewis Cass'
[[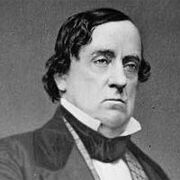 ]]

2nd Governor of Michigan Territory

Assumed Office
October 29, 1813
Lewis Cass (October 9, 1782 – June 17, 1866) was an American military officer and politician. During his long political career, Cass served as a governor of the Michigan Territory, an American ambassador, and a U.S. Senator representing Michigan. He was the nominee of the Democratic Party for President of the United States in 1848.
Early life
Edit
Cass was born in Exeter, New Hampshire, where he attended Phillips Exeter Academy. His parents were Major Jonathan Cass and Molly Gilman. In 1800 he moved with his family to Marietta, Ohio. On May 26, 1806, he married the former Elizabeth Spencer.
Territorial governor
Edit
During the War of 1812, Cass served as a brigadier general and participated in the Battle of the Thames. As a reward for his service, he was appointed Governor of the Michigan Territory by President James Madison on October 29, 1813, and served until 1831. He was frequently absent, and several territorial secretaries often served as acting governor in his place. In 1817, he was one of two commissioners (along with Duncan McArthur) who negotiated the Treaty of Fort Meigs, which was signed September 29 of that year with several Native American tribes. In 1820, he led an expedition to the northern part of the territory, in the northern Great Lakes region in present-day northern Minnesota, in order to map the region and discover the source of the Mississippi River. The source of the river had been unknown until then, resulting in an undefined border between the United States and British North America. The expedition erroneously identified Cass Lake as the source of the river. The source of the river was correctly identified in 1832 by Henry Schoolcraft, who had been Cass's expedition geologist, as nearby Lake Itasca.
Later political career
Edit
On August 1, 1831, Cass resigned as governor of the Michigan Territory to take the post of Secretary of War under President Andrew Jackson, a position he would hold until 1836. Cass was a central figure in formulating and implementing the Indian removal policy of the Jackson administration. Next, Cass was appointed ambassador to France, which he remained until 1842. Cass represented Michigan in the United States Senate from 1845 to 1848. He served as chairman of the Committee on Military Affairs in the 30th Congress. In 1848, he resigned from the Senate to run for President. William Orlando Butler was his running mate. Cass was a leading supporter of the Doctrine of Popular Sovereignty, which held that the people who lived in a territory should decide whether or not to permit slavery there. His nomination caused a split in the Democratic party, leading many antislavery Democrats to join the Free Soil Party. He also supported the annexation of Texas. After losing the election to Zachary Taylor, he returned to the Senate, serving from 1849 to 1857. He was the first non-incumbent Democratic presidential candidate to lose an election. From 1857 to 1860, Cass served as Secretary of State under President James Buchanan. He was sympathetic to American filibusterers and was instrumental in having Commodore Hiram Paulding removed from command for his landing of Marines in Nicaragua and compelling the removal of William Walker to the United States. Cass resigned on December 13, 1860, because of Buchanan's failure to protect federal interests in the South and failure to mobilize the federal military, actions that might have averted the threatened secession of Southern states.Cass died in 1866 and is buried in Elmwood Cemetery in Detroit, Michigan. His great-great grandson Cass Ballenger was a U.S. Representative from North Carolina.