James Abram Garfield (November 19, 1831 – September 19, 1881) was the 20th President of the United States. His assassination, four months after his inauguration, followed by his death two months later, makes his tenure the second shortest (after William Henry Harrison) in United States history. Prior to his election as president, Garfield served as a major general in the United States Army and as a member of the U.S. House of Representatives, and as a member of the Electoral Commission of 1876. Garfield was the second U.S. President to be assassinated; Abraham Lincoln was the first. President Garfield, a Republican, had been in office a scant four months when he was shot and fatally wounded on July 2, 1881. He lived until September 19, having served for six months and fifteen days. To date, Garfield is the only sitting member of the House of Representatives to have been elected President.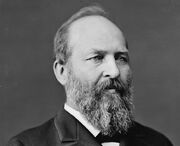 Ad blocker interference detected!
Wikia is a free-to-use site that makes money from advertising. We have a modified experience for viewers using ad blockers

Wikia is not accessible if you've made further modifications. Remove the custom ad blocker rule(s) and the page will load as expected.