Jose Maria Aznar, former Spanish Prime Minister, wrote that the embargo was Castro's greatest ally, and that Castro would lose his presidency within three months if the embargo was lifted. Castro retained control after Cuba became bankrupt and isolated following the collapse of the Soviet Union in 1991. The synergic contraction of Cuban economy resulted in eighty-five percent of its markets disappearing, along with subsidies and trade agreements that had supported it, causing extended gas and water outages, severe power shortages, and dwindling food supplies. In 1994, the island's economy plunged into what was called the "Special Period"; teetering on the brink of collapse. Cuba legalized the US dollar, turned to tourism, and encouraged the transfer of remittances in US dollars from Cubans living in the USA to their relatives on the Island. After massive damage caused by Hurricane Michelle in 2001, Castro proposed a one-time cash purchase of food from the U.S. while declining a U.S. offer of humanitarian aid. The U.S. authorized the shipment of food in 2001, the first since the embargo was imposed. During 2004, Castro shut down 118 factories, including steel plants, sugar mills and paper processors to compensate for the crisis due to fuel shortages., and in 2005 directed thousands of Cuban doctors to Venezuela in exchange for oil imports.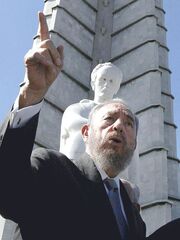 Ad blocker interference detected!
Wikia is a free-to-use site that makes money from advertising. We have a modified experience for viewers using ad blockers

Wikia is not accessible if you've made further modifications. Remove the custom ad blocker rule(s) and the page will load as expected.