William James O'Reilly, Jr. (born September 10, 1949) is an American television/radio host, author, syndicated columnist, and self-described "traditionalist" political commentator. He is the host of the cable news program The O'Reilly Factor on Fox News Channel. Prior to hosting The O'Reilly Factor, he served as anchor of the entertainment program, Inside Edition. O'Reilly is the author of eight books, and also hosts The Radio Factor, a talk radio program syndicated by Westwood One.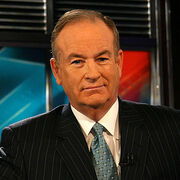 Ad blocker interference detected!
Wikia is a free-to-use site that makes money from advertising. We have a modified experience for viewers using ad blockers

Wikia is not accessible if you've made further modifications. Remove the custom ad blocker rule(s) and the page will load as expected.